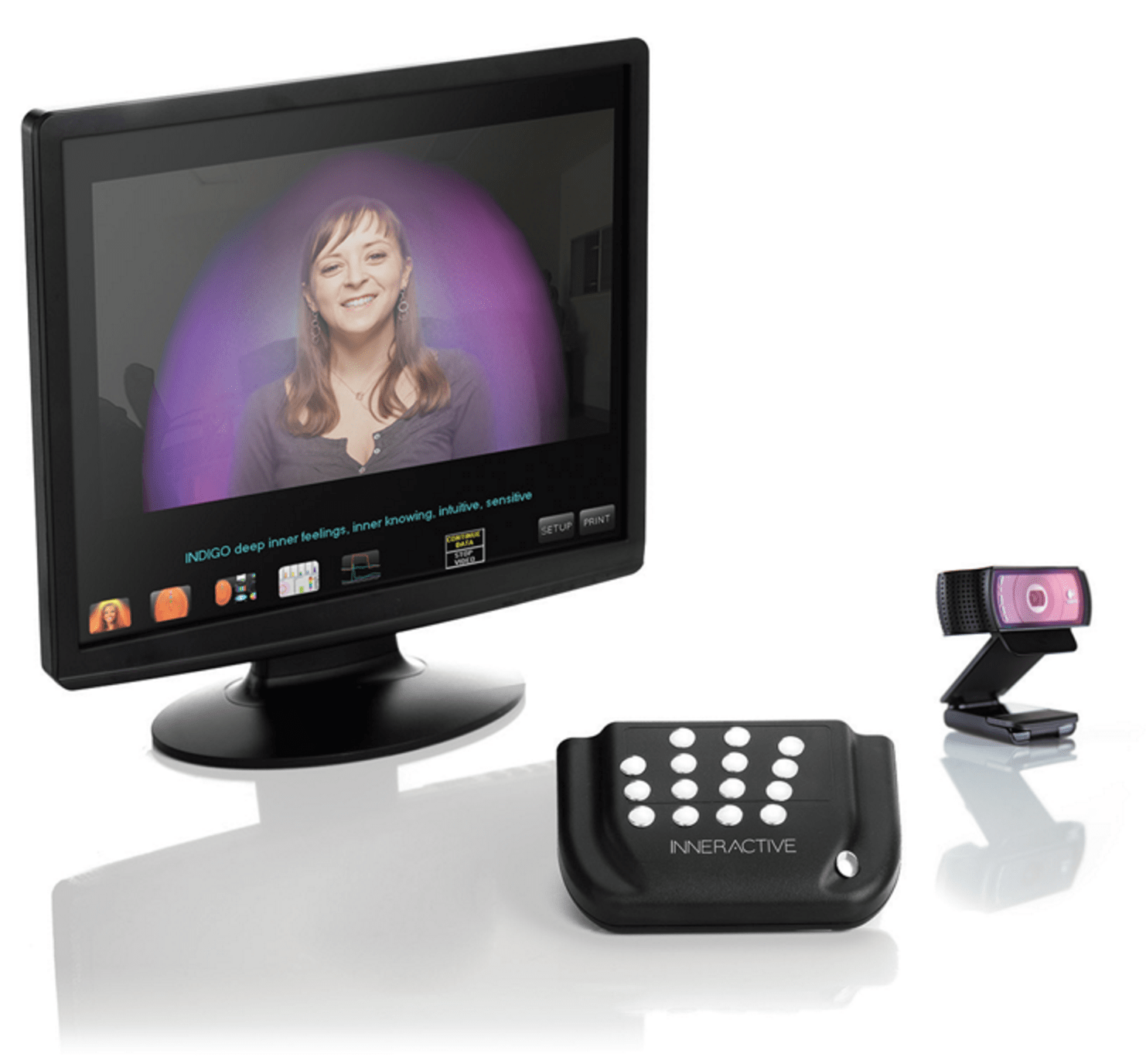 * Images may differ from actual product.
AVS7 Basic: Aura Video Station Basic Price & Info
Take your holistic health business or wellness center to the next level with Inneractive's unique aura imaging systems, like the Aura Video Station 7. This Aura video camera comes with a full suite of programs that visually display energy field information.
There are five applications in this imaging system that deliver simultaneous in-depth aura readings. These innovative applications reveal chakra strength, a representation of a client's aura colors, and many more revealing facets of a client's energy.
What's an aura?
In metaphysical thought, some spiritual practitioners hold the opinion that each person, animal, and even plants emit their own energy field that reflects their spiritual state of being. Auras may present in a variety of colors which are combined with light to form a glowing cloud around an individual. Each color correlates to one of the seven chakras.
Inneractive's aura video camera technology aims to visually represent this metaphysical information.
How does the Aura Video Station 7 work?
Using a revolutionary human-computer interface system, the Aura Video Station 7 reads data from the InnerSense hand sensor. Thanks to Inneractive's proprietary algorithms, the information is converted into a representation of a client's aura.
In addition, you'll also receive detailed information about the client's chakras in relation to their aura and an overview of his or her spiritual essence. Plus, you'll have the option to record the session and play it back at any time.
Interested in the Aura 7? Contact us today for the Aura Video Station 7 price or, for the AuraCloud 3D price if you're more interested in an aura camera.
---
Our Basic Package Includes:
Hardware
Software
Aura Chakra Viewer: Allows you to see a client's chakra energy representation coupled with their aural presence.
Aura Video Camera: Presents you with a real-time aura visual representation based on sensor data and algorithmic conversion.
Aura Chakra Graphs: Detailed charts provide insight into chakra balance and client's personality profile.
Aura-In-Motion: Delivers aura context in terms of the body-mind-spirit connection.
Full Record and Playback: Record aura imaging sessions and play it back at any time.
Energy Data Graphs: Allows you to delve more deeply into client's energy information.
What other aura devices does Inneractive offer?
Inneractive offers a range of aura photography equipment for sale. If you're looking for a more robust aura video camera, we recommend the pro version of the Aura Video Station 7.
You can also go with one of our professional aura cameras, such as the AuraCloud Professional. Whatever device you choose, our aura imaging devices may help enhance your business and give you a more thorough understanding of your client's specific energy needs.
Aura Video Station 7 Basic Pricing Info
Pricing for the Aura Video Station 7 Basic is available upon request. Please get in touch with our team today to receive a personalized quote.

Frequently Asked Questions