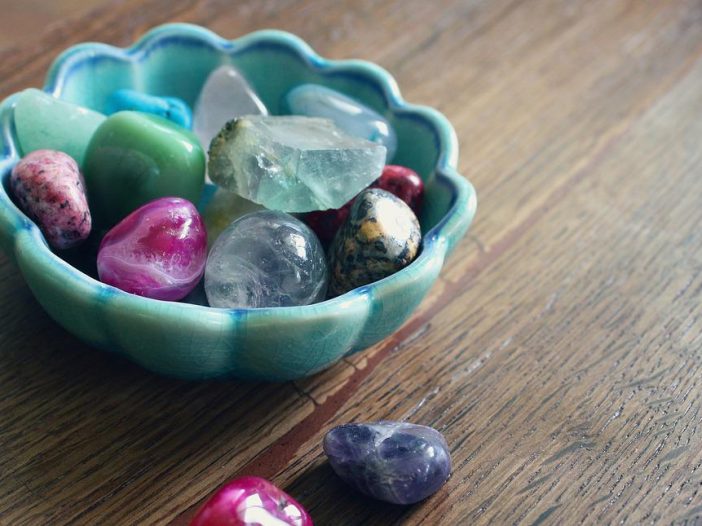 Is your passion for crystals calling you to start a crystal shop? If you're wondering how to start a crystal healing business, you've come to the right place.
Many people believe that chakra crystals and stones have healing properties that help clear away negative energies while ushering in positive, balancing energies. In addition to the metaphysical benefits that they may bring to the mind, body, and spirit, crystals are a beautiful addition to the home or to the body when worn as jewelry.
Interest in crystals has exploded during the pandemic; perhaps tied to the increased interest in wellness as we strive to care for our mental health during a crisis. Crystals have become so popular that even mainstream retailers are getting in on the game. If it is your dream to open a crystal healing business, there is room for you in the market if you take the time to do it right. A great way to launch a crystal business is to open a shop on Etsy but other options include your own e-commerce site, or renting a booth at your local farmer's market or a kiosk at the mall.
How to Start a Crystal Healing Business: 12 Secrets to Success
Starting any business takes care, research, and planning; building a crystal healing business from scratch is no different. If you have the passion to share your love of crystals with the world, then all you need to do is get started with these twelve secrets to success:
1. Identify your what and who
The first thing you want to do is identify what you are selling and to whom. Crystals is too broad a category. Perhaps you will focus on crystal jewelry, raw unpolished stones, or crystal towers. Once you have identified your what; figure out your target audience. What kind of people will want your products? You will cater your inventory, pricing strategy, and marketing efforts to appeal to this audience.
2. Name your shop and have your logo designed
Now that you know what you will be selling and to whom, it's a great time to choose a name for your shop. If you need help choosing a name for your crystal healing business, read our blog post on tips for naming your healing business. Once you have chosen your name, you are ready to have your logo designed.
3. Gain the expertise you need
As a crystal retailer, you may be asked all sorts of questions about the stones you are selling. To get their business (and hopefully turn them into repeat customers) you will want to be able to provide helpful and accurate answers. You will also need to have a certain level of expertise to ensure that you are re-selling quality, correctly labeled crystals. Research is your friend! The recipe for success is quality products combined with great customer service.
4. Form relationships with suppliers
In order to sell products at retail prices you will need to find a wholesaler to sell you the crystals at wholesale prices. Find a couple of dependable wholesale suppliers that have the products you want to sell and form a business relationship with them. Not sure where to find wholesale suppliers? Use this link for How to find crystal wholesale suppliers. Once your relationships are established, it's time to make your first order.
5. Price your inventory
If you are brand new to retailing, it can be a daunting task to figure out how to price your products. There are many factors to consider, including what your competitors are selling comparable products for. In the end, you will only have a viable business if you are actually making a profit on the products you sell. One of the most important things you can do is to work out your profit margin on each item.
6. Figure out where you will sell your crystals
Whether you are planning to create an online shop, or to lease a booth or other retail space; you will need somewhere to sell your crystal products. Once you have made your decision, follow through on any "paperwork" to get the process completed.
7. Get shipping materials and pricing organized
If you will be selling products online, it is very important to price out shipping materials and the cost of shipping that you may or may not pass on to your customers. Make sure you're ready to pack and mail your first orders with boxes and/or padded envelopes, bubble wrap, scissors, tape, and mailing labels. Don't forget to buy a reliable printer!
8. Create marketing materials
Even if you will be an online only business, you will need to have at least a few marketing materials such as business cards, thank you notes, and packing slips with your logo. Get these ready to go and add them to your shipping supplies.
9. Build your online presence
Whether you will be selling your crystals online or not, it is important to create an online presence.
· Build a quality website that's optimized for SEO.
· Create social media profiles – Instagram is a great platform for sharing beautiful pictures of your healing crystals.
· If you are building a local presence, be sure to fill out your Google My Business profile.
10. Take care of the details
· Choose which type of business you want (example, sole proprietorship)
· Apply for a business license
· Choose an inventory tracking system and enter your products
· Research the sales tax rules in your state
· Speak to a tax accountant about what you will need to do to follow tax laws for your business
11. Photograph your crystals
If you will be selling your crystals online, it is vital to take beautiful pictures of each product. You don't need to be a professional photographer but there are some tips you can follow that will make your picture more effective such as natural lighting and a simple background.
12. Get your products listed or set up in the retail space
It's time to start selling your goods! Upload your products to your online store or get them set out in your retail space. If you are selling online, be sure to use all relevant keywords in your description to make it easier for people to find your products.
From psychic fairs to natural and holistic events, Aura Systems digital aura camera machines and aura-energy machine packages can be used to generate additional income. Bring your crystals and offer aura and chakra readings as an additional service. You can charge per session or photo, quickly earning back the money you spent on a machine.
Ready to add an extra service to your booth at events and fairs? Ask us about options for events and fairs as well as demos for psychics and natural/holistic events.