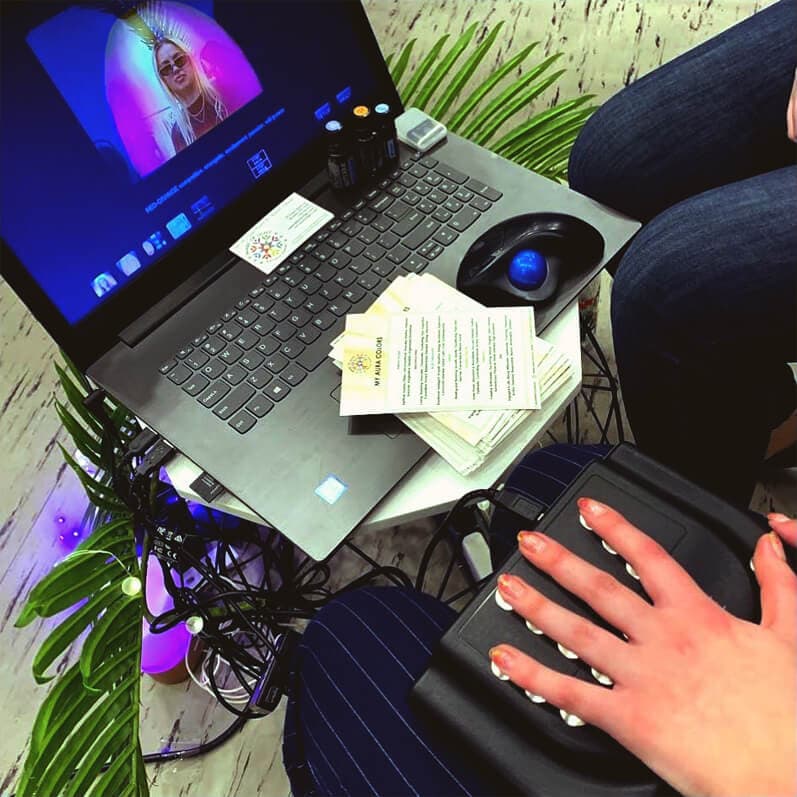 Buy An Aura Camera
The right aura machine may give you an in-depth look into human energy like never before—and the latest technology only enhances the experience. Our aura cameras work in real time to provide aura and chakra readings for your clients.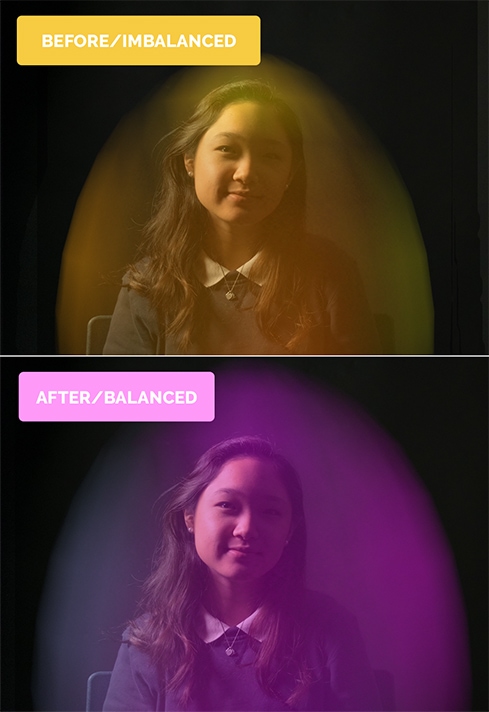 Our aura cameras provide…
The ability to visualize auras, chakras, and energetic imbalance representations in real time
An engaging way for holistic wellness centers to show before-and-after data
A way for holistic retailers to raise their average customer value with in-store readings
A tool for entrepreneurs to draw eyes at festivals, fairs, conventions, trade shows, and more!
With our complete line of aura cameras, you may be able to realize aura business benefits like never before.
How to Buy an Aura Camera:
One of our trained aura consultants can show you how an aura camera can enhance your business or practice. Simply request an online demo (contact us) to get the aura camera price and see it in action live!
Check out our full line of aura cameras for sale below.
IES AuraCloud 3D
Our AuraCloud system doesn't just give you a full picture of the aura. This system also highlights a model, aura and the chakras in full 3D. Our AuraCloud software is designed to process the sensor readings and display them in beautiful images and charts for your viewing convenience. Not to mention, the AuraPet software allows you to do exactly the same high-quality readings for pets!
There are two systems: Pro and Basic.
IES AuraCloud 3D Pro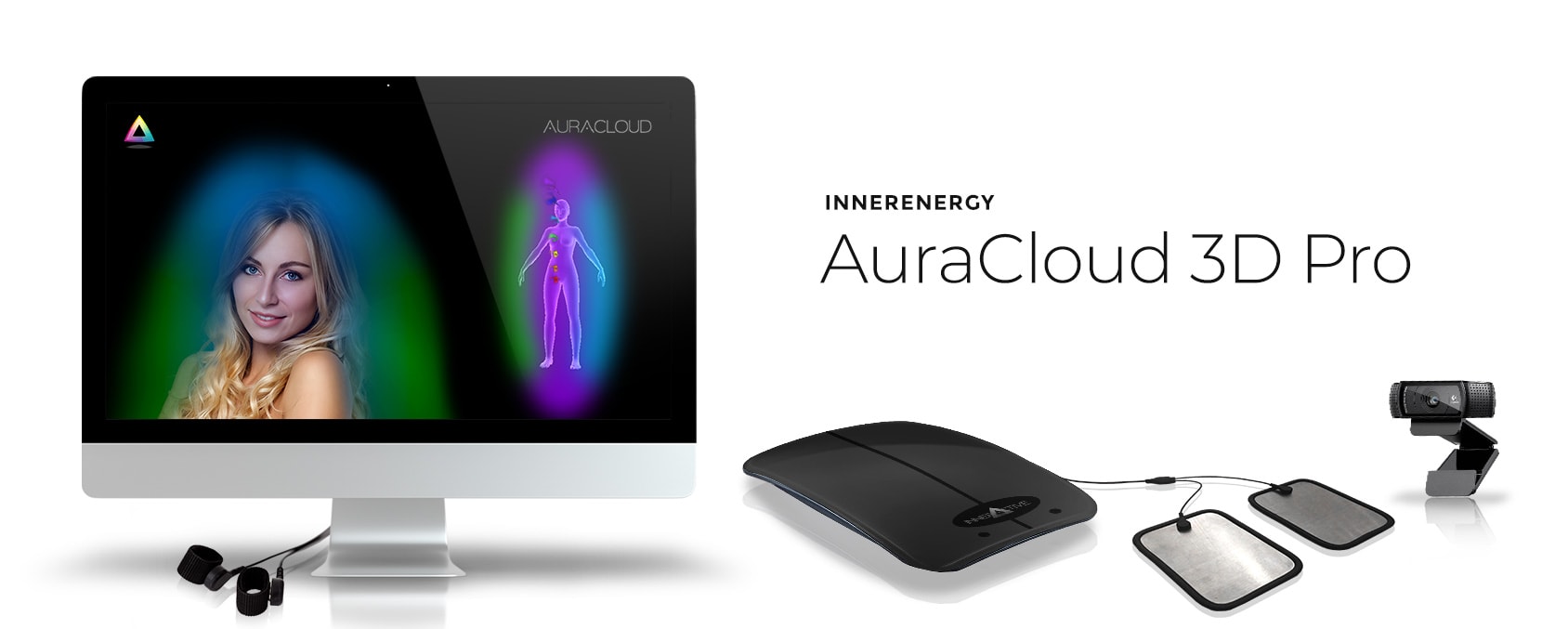 The AuraCloud 3D Pro is the latest in Inneractive's cutting-edge aura camera technology. The Pro version features all the same elements as the Basic version, plus additional tools and functionality for professionals.
You'll love our brand-new Zensen sensor, which is crafted in a stylishly comfortable shape for your hand. We've also incorporated a Logitech Web Camera for live imaging, reiki tips for one-on-one reiki sessions, and even our specially designed Animal Aura Plates that let you conduct aura readings on your pets as well! The Pro version also features special functionalities like Client Manager, which help you store and organize your clients' readings.
IES AuraCloud 3D Basic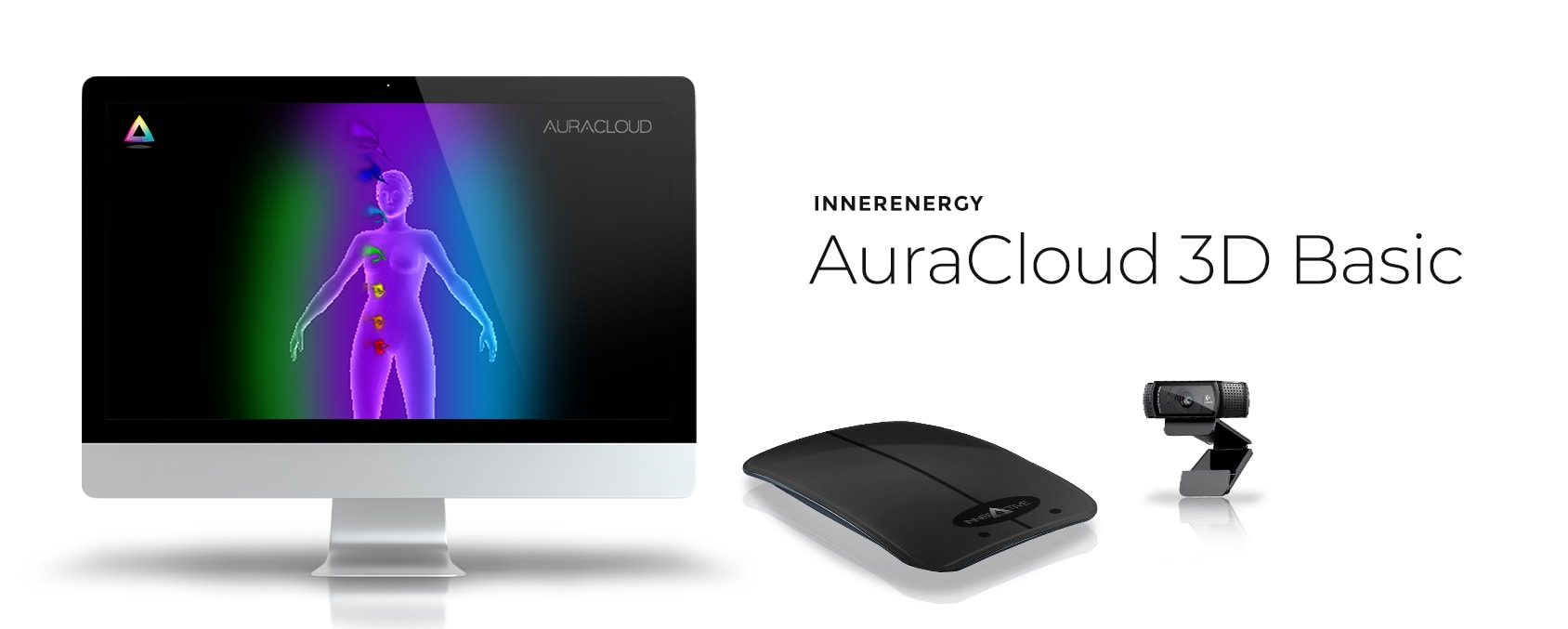 The AuraCloud 3D Basic is perfect for in-home aura-energy readings. It's an enlightening tool that will give you detailed and easy-to-read visualizations of your aura-energy channels!
In addition to the Zensen sensor and Logitech Web Camera, the AuraCloud software includes four detailed applications that will expand upon the sensor's hand readings. Each application serves a different purpose: base aura color, chakra strengths, energy levels, and more.
Aura Video Station 7
The Aura Video Station 7 is the original aura photo camera, built specifically for holistic practitioners and wellness centers. It paved the way for the AuraCloud 3D, and it's still one of the premiere aura cameras on the market. There are two systems: Pro and Basic.
Aura Video Station 7 Pro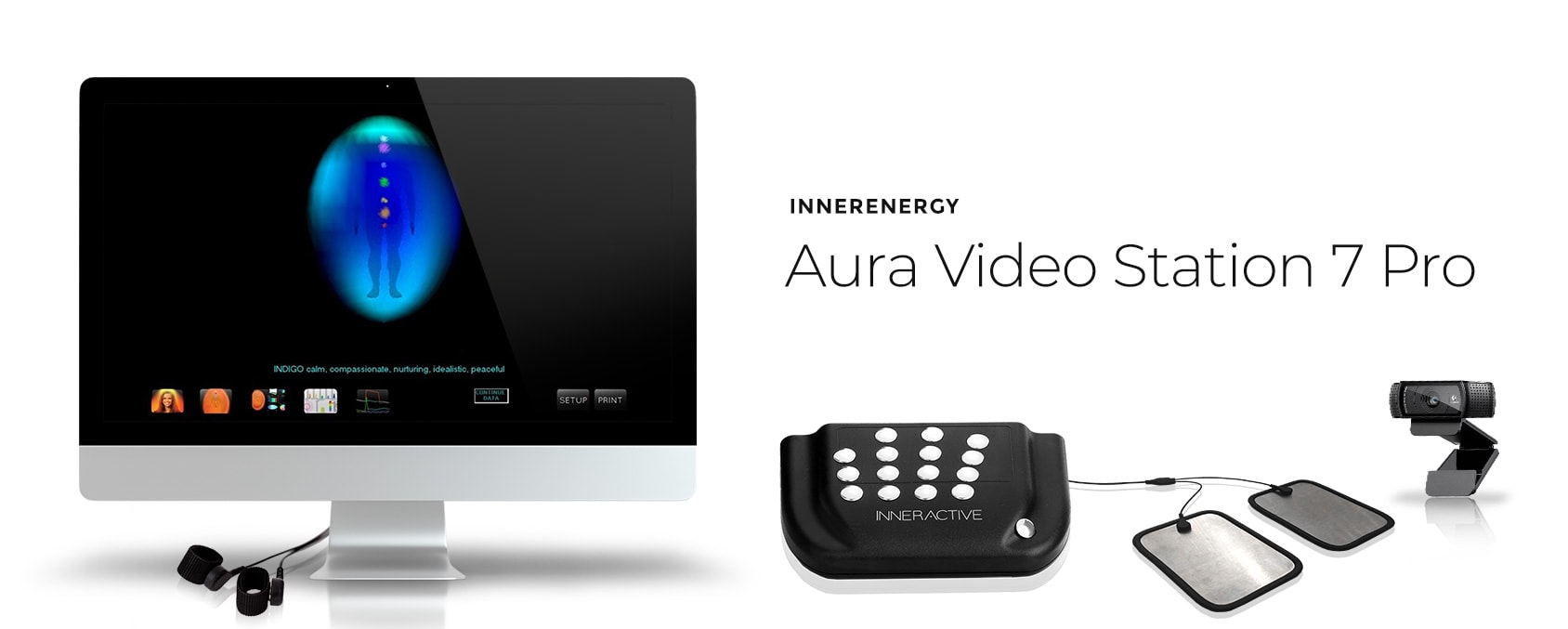 The Aura Video Station 7 Pro is on the cutting edge of aura photography equipment for sale.
Our Innersense sensor is powerful but portable. It works together with our innovative software to display beautiful visual interpretations of aura and chakra energies.  Aura Video Station 7 Pro also comes equipped with Animal Aura technology to provide pet readings!
Aura Video Station 7 Basic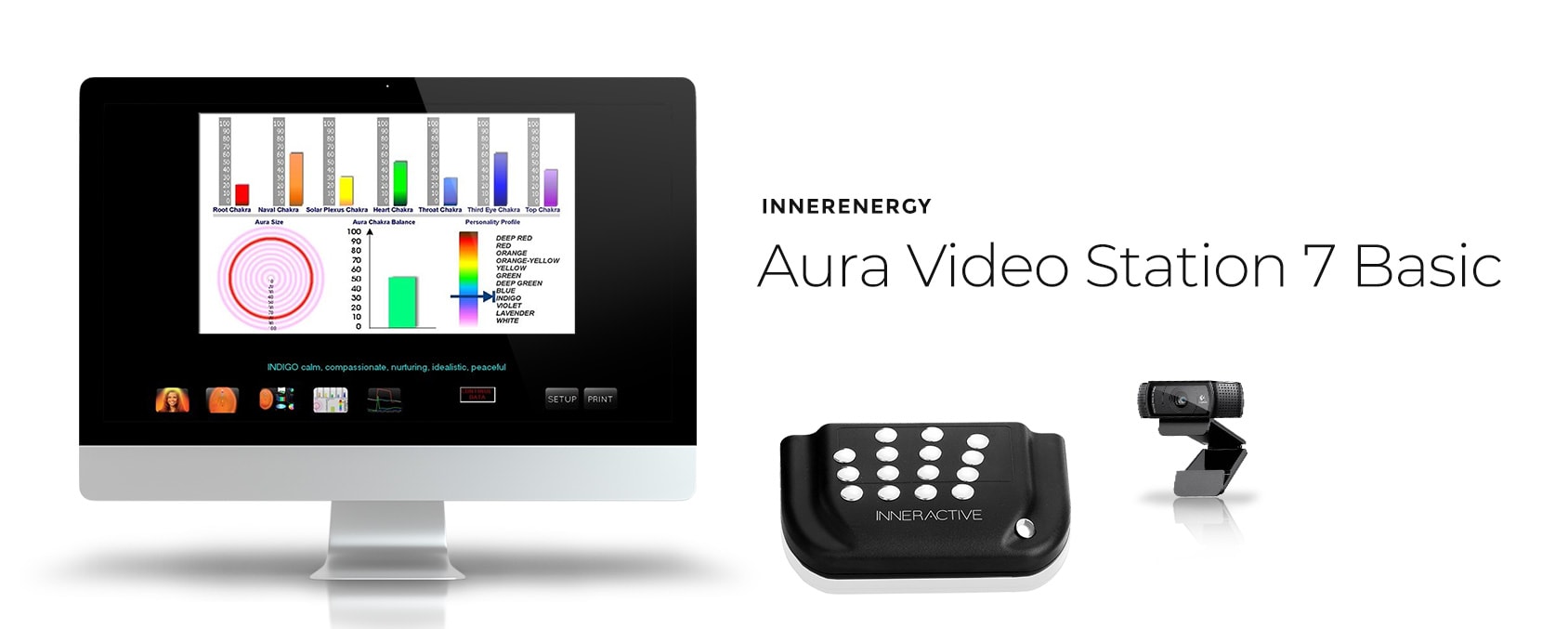 The Aura Video Station 7 Basic features five in-depth applications displaying different aura-energy readings. The InnerSense Sensor reads your hand and instantly converts the data into gorgeous, easy-to-read visuals. Using that data, our software then composes personalized charts explaining base aura color, energy levels, and other focal points.
How do our aura cameras work?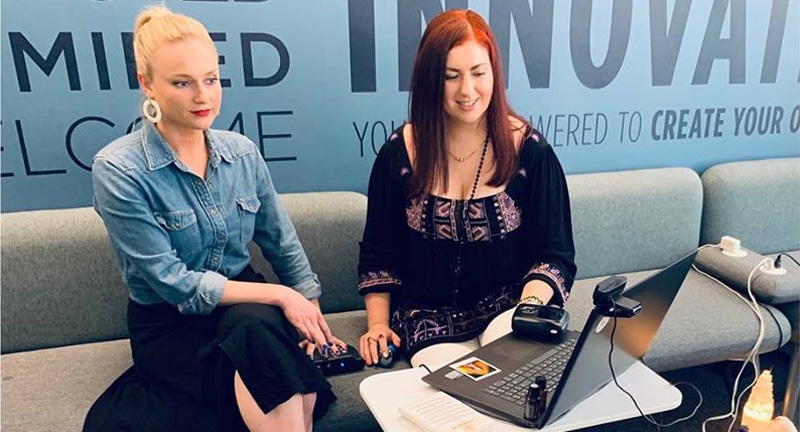 What is aura photography? Our aura machines are designed to be incredibly easy to use. Just follow this three-step process:
Sit in front of the aura camera. This allows the camera to capture your image while you access the sensor.
Place your hand onto the sensor. Comfortably rest your hand on the sensor to allow the aura camera to collect data.
Your aura image appears on the screen. Aura and chakra visuals will change in real time.


Once you've done this, you have the option of printing reports for yourself or your client. You can print high-quality aura-chakra reports in multiple languages.