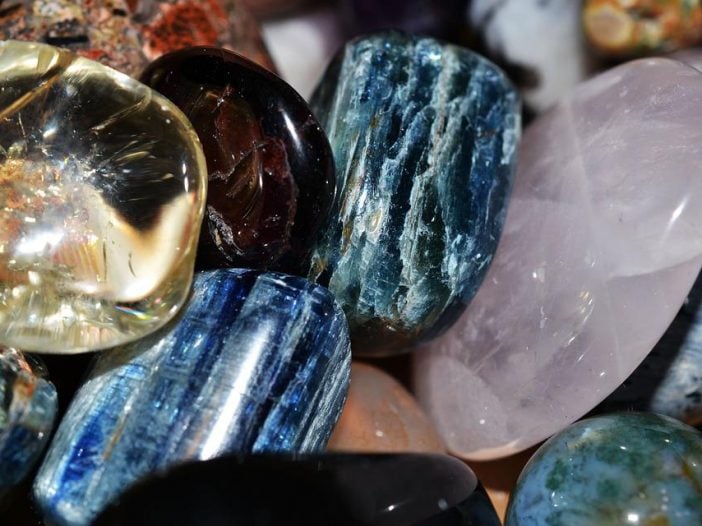 The solar plexus is the third of seven chakras, located right below the breastbone. It is believed that our ego and confidence reside in the solar plexus along with our inner warmth and vital life bringing energy. When we accuse someone of having a big ego, it is not meant as a compliment. But actually, some ego is needed to create healthy boundaries, balance our needs, and engage our warrior spirit.
The solar plexus chakra is thought to affect our overall health and emotional balance. When our solar plexus chakra is blocked, it can manifest in physical ways such as fatigue, digestive issues, and even liver problems. Emotionally, it can affect self-esteem and lead to feelings of worthlessness and lack of direction.
When our solar plexus is vibrating with positive energy flow, we may feel a renewed sense of strength, determination, passion, and self-esteem. Our solar plexus can give us the endurance and skills we need to achieve our goals. If you're feeling lost, solar plexus stones may provide the warmth you need to help you get back on track.
Solar Plexus Chakra Stones: 11 Crystals and Their Healing Benefits
The solar plexus chakra is associated with the color yellow so many solar plexus chakra stones come in shades of yellow and burnt oranges. These crystals bring radiant energy that shine rays of hope and joy into your life. Solar plexus chakra stones are used to help clear out blockages from the solar plexus that are keeping us down. Here are 11 solar plexus crystals to consider:
Calcite. Calcite amplifies energy, turning a little glow into a burst of confidence and warmth. If you are in need of a dose of joy and some fresh energy, bring this cool and bright stone with citrus shades into your life.
Yellow Jasper. Yellow Jasper is associated with the light and energy from the sun, pushing out inner darkness to be replaced by positive vibes. This stone is also thought to be protective against negative energy, so you can feel safe as you interact with others.
Citrine. Citrine is a summer mood, bringing gorgeous light and harmony into your life. This crystal is all about success as it ushers in positive energy and increases confidence and a sense of personal power. Citrine is also known to push energy up from the chest to the crown chakra, helping you to leap to higher heights.
Amber. Amber, with its glorious orange, red and brown glow, connects us to our ancient roots. This stone is balancing and heartwarming; bringing wisdom, patience, and clarity into our lives. If you are looking to increase your ability to make strong decisions, Amber is the way to go.
Yellow Tourmaline. Yellow Tourmaline, with its sunshine vibes, is an ideal solar plexus chakra cleanser. This crystal is all about protective and positive power, helping you scatter and shake up stagnant energy. This stone has a somewhat magical quality that allows it to attract bad energy and make it disappear.
Tiger's Eye. If you want to feel the power and self confidence of a cat, Tiger's Eye is the ideal gemstone. The opposite of timid, cats are fierce and fearless – this gemstone is used to inspire the confidence you need to spring into action in your own life.
Pyrite. Pyrite, also known as Fool's Gold, is sparkly, golden, and beautiful. Pyrite brings a fiery and life bringing warmth that can help us turn around from a difficult situation. This stone reminds us of what we are capable of – helping us find the determination and drive to live our best lives.
Yellow Topaz. Think of Yellow Topaz as a cleanser and detoxifier, helping to flush out negative energy and blockages while making room for positive energy. If you need a confidence boost and some optimism that great days are ahead, choose Yellow Topaz.
Agate. Agate brings volcanic energy to the table, cleansing your solar plexus of old, negative emotions. This stone helps clear out the clutter to leave space for more positive energy. Agate is also helpful if you want to learn to control anger because it can help to move those strong feelings into more positive places.
Sunstone. The Sunstone is bright and fiery like the Egyptian sun god Ra. It invites us to soak up its warmth while it emits healthy, balanced energy that boosts our confidence and self-worth. The Sunstone encourages us to experience a range of emotions while fortifying emotional intelligence and the clarity needed to communicate what we want and need with the universe.
Lemon Quartz. Lemon Quartz is light and fun, cleansing the solar plexus chakra with sweet goodness. If you are a worrier or have been carrying a heavy burden, bring in some happy notes and lighten things up with Lemon Quartz.
Solar plexus healing stones help us to regain our personal power while keeping our ego in check so we can accomplish great things. Under the glow of the sun energy found in these gemstones, we strengthen our sense of self-worth as we learn to trust our instincts.
How to Use Chakra Stones to Heal The Solar Plexus Chakra
When our solar plexus chakra is blocked, we may struggle with determination and self-esteem issues. If you're ready to bring positive vibrations into your life to shake your soul awake, read on for some ways to incorporate solar plexus crystals into your routine.
Choose a solar plexus chakra stone (or a few) that speak to you and use one of the following ideas:
Place a chakra stone on your solar plexus while you meditate.
Keep a healing crystal nearby when you need a boost of confidence.
Hold the stones in your hand while you repeat powerful affirmations about your confidence.
Perform sun salutations with solar plexus crystals placed on your yoga mat.
Wear solar plexus stone jewelry.
Drink a crystal elixir.
The AuraCloud 3D is an interactive, multimedia aura imaging computer system that helps explain and visually show what auras look like. The aura machine is built on the beliefs and studies of aura-energy, color analysis, and chakra knowledge that have been used by healers for centuries. In practical terms, our Aura camera is a computer-based camera system that collects data from a hand sensor and then – using proprietary algorithms – shows an interpretation of aura and chakra depictions on a monitor. Practitioners can then print a report to send home with their client.