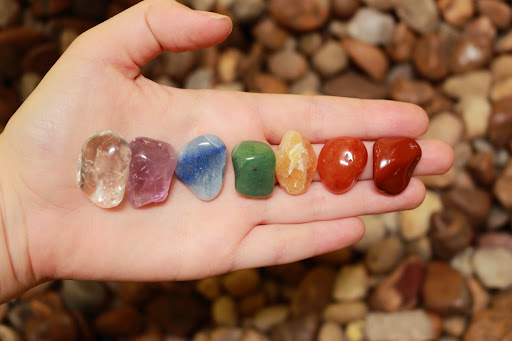 For centuries, people have been using chakra stones because of the belief that they can improve spiritual, emotional, and physical health and well-being. Chakra stones, also called chakra gemstones, chakra crystals, or chakra healing gemstones, are a specific set of stones that correspond to each of the seven body chakras. The term chakra refers to the concentrated energy centers in the human body. The seven chakras are:
1. The root chakra
2. The sacral chakra
3. The solar plexus chakra
4. The heart chakra
5. The throat chakra
6. The third eye chakra
7. The crown chakra
Our chakras resonate at a vibrational frequency. If these chakras become blocked or imbalanced, or are either overactive or underactive, it is believed that a person's mental, physiological, and spiritual health will be negatively affected. What are chakra stones used for? Chakra stones are used in a variety of ways to help unblock and balance the chakras, leading to better overall well-being.
What are Chakra Stones Used for | 10 Uses for Chakra Stones
People all over the world have been using chakra crystals that support each of the chakras to enhance, balance, and clear out their chakra energy centers for thousands of years. This healing work is believed to help us reach our full potential and improve emotional well-being and physical health.
Each chakra stone has its own unique charge that is useful for aligning the energy of a particular chakra. There are many chakra stones with a wide variety of properties and uses. Each chakra stone is special in its own way; every individual stone has different properties and varies in its effectiveness—no two chakra stones are the same.
Chakra stones are used in a variety of ways to help heal the seven chakras. Here are 10 uses for chakra stones:
1. Worn as jewelry against the skin to help the wearer stay in constant touch with the chakra stone's vibrational energy.
2. Building a sacred healing space with crystals such as an altar, in the bath, on a bedside table, hallway, or on a mantle.
3. Kept in a pocket, purse, or wallet so they are close by and can be touched throughout the day.
4. Chakrubs and Yoni eggs are used intra-vaginally.
5. Placed alongside a yoga mat, in a circle around you or in your hands while you meditate.
6. In a workspace.
7. Stroking the body gently to increase self-awareness.
8. Placing the chakra stones on top of the area represented by the chakra. For example, placing a stone known to support the third eye chakra in the space between the eyes where the third eye chakra exists.
9. Make a crystal elixir, crystal infused water, or chakra balancing tea.
10. Used in special massage techniques that move the stones along the bodily and facial meridians in order to increase circulation alongside other treatment for physical and mental health conditions.
No matter how you decide to use the stones, be sure to cleanse them, set your intention, and create a sacred space for any rituals you do with them.
It is important to cleanse chakra gemstones when we first get them because they have absorbed the energies of the people who have polished and handled them on their journey to you. Not to mention, the powerful energies they absorbed from the earth before they were mined. Likewise, after you have used your crystals to clear out negative energies, it is important to cleanse them. The safest and easiest way to cleanse your crystals is to let them soak in the moonlight overnight. Hard stones that are water resistant can be run under cool, clear water or soaked in salt water.
When choosing a chakra stone, set a respectful intention for how you will use it to help you heal and balance your chakra(s). This intention will remain in place for as long as you choose to use your crystal.
Be sure to create a sacred space for your crystal rituals. This should be a quiet space where you can meditate. Be sure to keep devices with Wi-Fi signals away from this space.
What Chakra Stones Align With The 7 Chakras
While there are seven chakras, there aren't just seven chakra stones to match each chakra. In fact, there are several stones that are known to support each chakra because of their specific healing vibrational energies. Each chakra in the body responds to the healing energies of specific stones and crystals.
Beginners often start with a small number of stones that speak to them or that are known to heal a particular chakra that they want to realign. Crystals come polished and unpolished and in a huge range of sizes to fit a range of budgets. It's also important to know that you can use several chakra stones together as long as their energies are complimentary but that a single stone can also be very effective.
Below is a short list of which chakra stones work for each chakra:
The first chakra is the root chakra and its color is red. Chakra stones that are known to benefit the root chakra include: ruby, black tourmaline, bloodstone, garnet, hematite, obsidian, smoky quartz, fire agate, onyx, red jasper, and lodestone.
The second chakra is the sacral chakra and its color is orange. Chakra stones that are known to benefit the sacral chakra include: carnelian, moonstone, orange tourmaline, sunstone, coral, and amber.
The third chakra is the solar plexus chakra and its color is yellow. Chakra stones that are known to benefit the solar plexus chakra include: rutilated quartz, yellow citrine, amber, yellow tiger's eye, yellow agate, and yellow/golden topaz.
The fourth chakra is the heart chakra and its color is green. Chakra stones that are known to benefit the heart chakra include: rose quartz, emerald, peridot, green calcite, green kyanite, green tourmaline, and nephrite jade.
The fifth chakra is the throat chakra and its color is blue. Chakra stones that are known to benefit the throat chakra include: lapis lazuli, turquoise, blue kyanite, iolite, sodalite, aquamarine, and celestite.
The sixth chakra is the third eye chakra and its color is indigo. Chakra stones that are known to benefit the third eye chakra include: lapis lazuli, amethyst, clear quartz, blue sapphire, blue aventurine, kyanite, fluorite, lepidolite, sugilite, and tanzanite.
The seventh chakra is the crown chakra and its color is violet. Chakra stones that are known to benefit the crown chakra include: amethyst, labradorite, moon-stone, selenite, kunzite, apophyllite, white topaz, clear quartz, Herkimer diamond, and phenacite.
Aura Systems aura cameras can enhance your wellness or holistic business through our cutting-edge technology. The AuraCloud 3D processes sensor data and displays aura and chakra images that can be shared with your clients. They will be amazed when you show them the results!