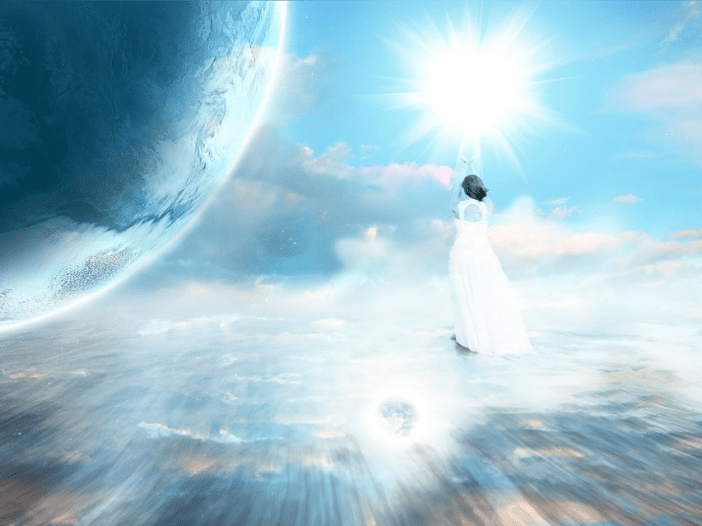 A spiritual awakening is often a life changing and transformative experience that shakes up the way we see ourselves and our place in the world. The awakening itself can feel explosive; like you've turned your existence on its head. But what happens after a spiritual awakening?
What Happens After Spiritual Awakening?
In some ways, understanding what happens after a spiritual awakening is just as important as the spiritual awakening itself. It is only through this understanding that we can truly get something out of our journey toward spiritual growth.
While each person's experience is unique, there are some similarities of what people experience after a spiritual awakening:
1. Old habits and thought processes slide away. If someone is feeling stuck in negative thinking or addictive, unhealthy habits, they may find that they are ready to let these things go after an awakening.
2. Because the heart chakra opens up after a spiritual awakening, you will be more aware of others' pain and have a greater sense of empathy toward them. You may also have some realizations about your own pain and past traumas and learn to show yourself the grace you need to heal.
3. A sense of connection to others and the earth.
4. A desire to get out into nature more regularly.
5. A stronger sense of intuition that allows you to know when something is true or false and whether others should be trusted or not. You will learn to trust your gut as it more consistently steers you in the right direction.
6. A burning desire to make big changes in life like start a new career, find a better company to work for, move to a different city or country, or end a current relationship.
7. A readiness to forgive people who hurt you as you let go of old grudges and resentments and gain understanding of the pain that led them to act the way they did.
8. A greater sense of happiness or lightness as you let go of negative feelings toward yourself and others.
9. A greater awareness of and openness to synchronicities and signs such as seeing 11:11 on your clock. You will begin to understand them as the spiritual signs and guidance that they are.
10. A much stronger connection to both nature and the universe. Use this pull to spend more time enjoying nature – walking, hiking, camping, star and moon gazing, bird watching, enjoying the sunset, feeling the earth beneath your feet, etc.
11. A stronger connection to animals. Some people decide to change their eating habits to align with their new understanding of the natural world.
What To Be Aware of After a Spiritual Awakening
It's important to be aware that not every feeling you experience after a spiritual awakening will be happy. For some, an awakening can be very overwhelming or even depressing as the person comes to terms with the fact that the life they have been leading or striving for is not aligned with their true self. Perhaps they have been consumed with ambition or material things. Maybe they have been harboring grudges that are causing more harm to themselves than good. Some people feel lonely because they no longer feel like they have anything in common with their friends.
The months after a spiritual awakening can be a confusing time as you see things around you in a different light but cannot yet wrap your mind around what you are seeing. Your gut or heart may try to lead you in a way that your brain hasn't yet caught up with. Be patient. If you trust your intuition, you will slowly start to unravel all your new thoughts and feelings.
As more clarity comes, it will be easier to integrate your new found awareness into your daily routines. Are you being called to connect with nature? You may find yourself taking nature walks on your lunch break. Or perhaps you want to volunteer at an animal shelter because of your newfound connection to the natural world.
It can be a challenge to understand and embrace your new awareness because it is so opposed to your old ways of thinking. If you take the time you need to work through this discomfort, however, you will reap the benefits of your growth. Eventually you will come to a place where you can embrace the change. You may surprise yourself at how open you have become to trying new things!
It's important to understand that while you may have made huge strides already, we are not meant to have one awakening and then never learn anything new again. Be open to signs from the universe that more meaningful change is needed.
Your sense of what is "real" will be shaken. You may begin to see that everything you thought was real or true is actually just an illusion. This can make us feel uncertain about how to proceed in a world that isn't what we thought it was but you will be okay when you realize that you yourself are not an illusion and neither are the ways that you choose to interact within your life here on earth.
In the end, the best thing to do is embrace your new sense of awareness and connection to the universe so you can live your best life.
What Do Aura Systems Aura Cameras Provide?
Aura systems cameras make it possible to visualize auras, chakras, and energetic imbalance representations in real time.
Our cameras provide a very engaging way for holistic wellness centers to show before-and-after data for their clients. For example, wellness practitioners can use the camera before a treatment and then after a treatment to show clients how their aura has changed.
Holistic retailers use our camera to raise their average customer value with in-store readings.
Our cameras give holistic entrepreneurs a fun tool to draw customers in at festivals, fairs, conventions, trade shows, and more!
We have a line of aura cameras to meet your needs. Contact us for pricing.