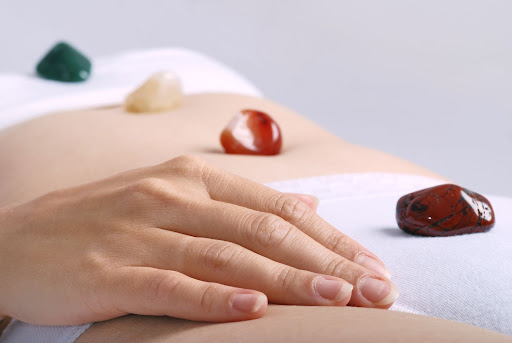 Are you feeling "off-balance" or "dysregulated"? Do you feel like something is holding you back from true happiness and reaching your full potential? If so, you may benefit from bringing chakra stones or crystals into your life for the purpose of chakra healing. Chakra stones can be used to enhance meditation, perform rituals, be worn as jewelry, or used as decoration around the home. Some people even carry a little soft bag of chakra gemstones with them everywhere. Today we're going to talk about how to place chakra stones on the body for the purpose of chakra meditation.
How to Place Chakra Stones on Body | A Step-by-Step Guide
Placing chakra stones on the body can be a great way to enhance your meditation experience if you know how to use them. Each of our seven main chakras can be found in a specific spot on the body and it can be beneficial to place a chakra stone that supports each particular chakra on that body part. Once you have purchased a chakra crystal for each chakra and cleansed them, you are ready to place them on their associated body part. Tip: you can purchase chakra stone kits that come with the stones you will need to get started on both Amazon and Etsy. If you prefer to hand select your stones, a local crystal shop would be your best choice.
To get started you will first want to find a good place to meditate. The space should be private, quiet, comfortable, and free of wi-fi signals (androids can be placed on airplane mode, iPhones must be turned off). If the weather is nice, try an outdoor space.
Next, lay down on a comfortable, flat surface. A carpeted floor, soft grass, or a bed are all good options.
When you are laying down and ready to place chakra stones on your body you will want to start with the first chakra (root) and work your way up to the seventh chakra (crown). You may wish to ask a trusted friend or family member to place the stones for you. Perhaps you could take turns and place your friend's gemstones on them when it is their turn to meditate.
Place each chakra stone on the correct areas of the body and in the correct order from one to seven. Chakra crystals should be placed one at a time with a focus on receiving each stone's energy before moving on to the next one. One of the best ways to do this is to visualize the stone's energy entering and cleansing each chakra.
Use the following order to place your chakra stones:
1. Root chakra: place a red or black stone on your groin or feet
The root chakra affects how grounded we feel and is located on the groin. Choose a red or black root chakra stone that speaks to you such as a black tourmaline or ruby and place it on your groin. If you prefer, you can place the stone on your feet.
2. Sacral chakra: place an orange stone on your pelvis
The sacral chakra governs our emotional health and creativity and is located on the pelvis. Choose an orange sacral chakra stone that you're drawn to such as amber or carnelian and place it on your pelvis.
3. Solar plexus chakra: place a yellow stone on your naval
The solar plexus chakra represents our personal power and is located on the navel. Choose a yellow solar plexus chakra stone that calls to you such as citrine or yellow jasper and place it on your navel.
4. Heart chakra: place a pink or green stone over your heart
The heart chakra affects your love and hate emotions and is located in your heart. Choose a pink or green heart chakra stone that speaks to your heart such as rose quartz or green aventurine and place it on your heart.
5. Throat chakra: place a blue stone on your throat
The throat chakra is all about truthful expression and the ability to vocalize our truth; it is located on the throat. Choose a blue throat chakra stone that resonates with you such as lapis lazuli or aquamarine and place it on your throat.
6. Third eye chakra: place a purple stone on your forehead
The third eye chakra connects us to our spirituality and psychic abilities. Choose a purple third eye chakra stone that you feel drawn to such as amethyst or labradorite and place it on your forehead between your eyebrows.
7. Crown chakra: place a white, clear, or violet stone on the top of your head
The crown chakra represents knowledge and higher consciousness. Choose a white, clear, or violet crown chakra stone such as clear quartz, lepidolite, or selenite and place it on the top of your head.
After Your Chakra Stones Are Placed
After all the stones are placed, lay quietly for twenty minutes without moving or speaking. Keep your eyes closed and your mind focused on taking deep, measured breaths in through your nose and out through your mouth. If any intrusive thoughts pop into your head, acknowledge them and let them go quickly.
How To Wrap Up Your Chakra Stone Meditation
When you are finished meditating, remove the stones in reverse order from seven back down to one (crown chakra back down to your root chakra).
What Is A Chakra Camera?
A chakra camera is a less commonly used term for an aura camera device. Aura cameras are used to produce aura and chakra computer graphics onto a screen or into a photograph that can be printed out, depending on whether the aura camera is a digital or analog camera type. Aura Systems aura cameras use a sensor to collect aura data that then appears on a screen. Reports can also be printed out for clients. Shop our aura cameras now.